Why I'll Never Make It
Search : abigail
Episodes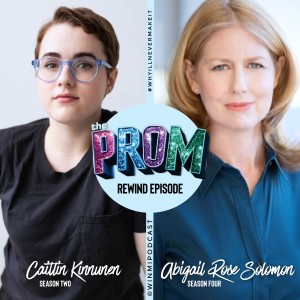 Friday Dec 25, 2020
Friday Dec 25, 2020
Merry Christmas! :)
In honor of the recent release of THE PROM movie on Netflix, here is a special combo episode of my conversations with star of the Broadway production, Caitlin Kinnunen (starts at 1:58), and one of the co-producers, Abigail Rose Solomon (starts at 35:18).
Also, this holiday season don't miss the 12 Days of Auditions, available at donate.winmipodcast.com. Become a WINMI Producer and listen to former guests share their most memorable audition stories.
Listen to Caitlin's full second season episode and audition story here.
And Abigail's full conversation and Final Five from season four is here.
—————
Don't forget to check out all the helpful offers available to you through WINMI guests and partners: resources.winmipodcast.com 
WINMI is a Top 20 Theater Podcast thanks to you!  blog.feedspot.com/theatre_podcasts
There's also another way to listen to this podcast: https://vurbl.com/station/6Wr76KvsqOG  
 
Friday Mar 06, 2020
Friday Mar 06, 2020
After our in-depth discussion on producing in NYC and balancing that with an acting career, Abigail now shares bucket lists and who she looks up to. These final five questions get into topics and insights not covered in our previous conversation.
If you could have any other job outside of the arts what would it be?
What is a bucket list role or show you still hope to do one day?
Who do you look up to? A mentor or someone who inspires you.
Name a lesson or trait that took you awhile to learn or one that you are still learning to this day?
What's the best advice you've received?
----------
Please consider buying me a coffee to support this work that goes into each episode.
 
Do you have questions or stories of your own? Share them with me:
contact.winmipodcast.com

Wednesday Mar 04, 2020
Wednesday Mar 04, 2020
For the first episode of Women's History Month, I'm talking to New York-Los Angeles actress and producer Abigail Rose Solomon, who founded Rosalind Productions in 2005.
We talk about the differences between acting and producing NYC and LA as well as her process of finding shows and working on them with other producers and creatives.
Rosalind Productions' credits include THE PROM, THREE TALL WOMEN, WAR PAINT, THE LAST SEDER, PROOF, and AS YOU LIKE IT.
Also, this week's female Broadway pioneer is Cheryl Crawford, founder of Group Theater and the Actors Studio.
----------
May this podcast be a resource for you as you discover more ways to pursue a career in this industry and sustain it through the many ups and downs that follow. For further insights (Twitter) and unreleased audio clips of today's interview (Instagram) be a part of the WINMI community on social media @winmipodcast. And you can always reach out to me on the website: contact.winmipodcast.com 
Lastly, this podcast is supported through kind donations of listeners like you by buying me a coffee.
 
-----------
Music: September by Kai Engel is licensed under a Attribution License.