Monday Oct 24, 2022
Muriel Miguel and the Art of Story Weaving Her Native American Experiences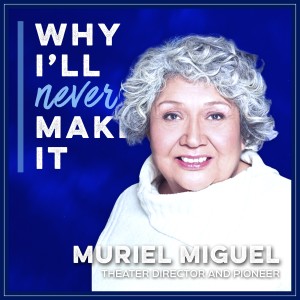 The art of theater is really just storytelling, and the stories that are told from region to region often come from within those communities and offer a shared experience on the stage. Broadway illustrates this with musicals like In the Heights, Allegiance, and The Color Purple—even shows like Noises Off and 42nd Street provide a backstage glimpse of the theater community. Well, today's guest is here to share her stories as a Native American, and the specific experiences that have helped her foster and create a unique kind of storytelling that values the past as much as the present and future. 
Muriel Miguel has been working in the world of experimental theater since the 1960s, when she was an actor in the Open Theater, a pioneering avant-garde ensemble founded by the visionary director Joseph Chaikin. When Spiderwoman Theater was formed in 1975 by Muriel and her two older sisters Lisa and Gloria, she conceived of it as a direct push back against the sexism that she says was plaguing the American Indian Movement at the time. 
As part of her creative journey, Muriel developed the art of storyweaving, which is Spiderwoman's signature Indigenous performance practice. You'll learn more about this as Muriel intertwines stories and experiences throughout our conversation, sharing important moments that have shaped who she is as a woman, a Native American, and an artist.
Learn more about WINMI Podcast at whyillnevermakeit.com 
Subscribe to WINMI and get b

onus episodes

 

Or if you prefer, make a one-time

donation

to support this podcast 
Spiderwoman Theater was founded when Muriel Miguel gathered together a diverse company of women, which included both of her sisters. They were of varying ages, races, sexual orientation, and worldview. The collective sprang out of the feminist movement of the 1970s and the disillusionment with the treatment of women in radical political movements of the time. They questioned gender roles, cultural stereotypes, and sexual and economic oppression. They took on issues of sexism, racism, classism, and the violence in women's lives. 
Spiderwoman broke new ground in using storytelling and storyweaving as the basis for the creation of their theatrical pieces. The performers wrote and performed personal and traditional stories and with Muriel as the "outside eye", they were organically layered with movement, text, sound, music, and visual images. Their weaving of humor with popular culture and personal histories along with their sometimes shocking style excited the hearts and spirits of women (and sometimes men) in the United States, Canada, and all over the world.
Audition Story
Though Muriel has been crafting her own theater work for decades now, she's also sought to work and study at other venues like Julliard. In this week's bonus episode, Muriel recounts the time as a teen when she auditioned as a dancer at this famed  institution. But she didn't have ballet slippers, which caused quite a fuss in the room.
Become a monthly subscriber to get access to this and other bonus episodes.
Final Five Questions
After our main conversation, Muriel sat down to answer the five final questions. Among several topics, she shares what success has meant to her (a continuation of what she said at the very end of this episode) and what frustrates her most about this industry, particularly in New York City. Read it all on the WINMI Blog.
For a more detailed bio of Muriel, check out this 2019 article from Southern Theatre.