Monday Jun 20, 2022
Ashley Victoria Robinson Never Settles, Constantly Pushing Herself as an Actor and Creative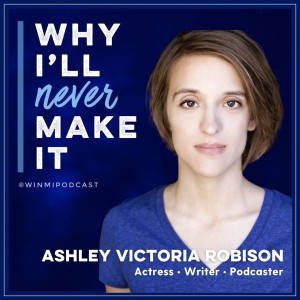 This past week I started rehearsals up in Connecticut at the Goodspeed Opera House doing a new musical version of the beloved Anne of Green Gables. It's a well-known story around the world but especially in its home country of Canada. So in honor of that I thought I would bring a Canadian onto the podcast. 
Ashley Victoria Robinson  is an actress, writer, producer and podcaster, and though she and I won't be talking about Anne of Green Gables, we do hit upon some of the themes from that story...dealing with the loss of family and how that can impact our lives, finding our place in this world and where we belong, and learning how to control our emotions and our words so that they don't get us into trouble.
Now, I hadn't met Ashley until we sat down for this interview, But just like Anne is constantly searching for that kindred spirit, I too found a wonderful connection with Ashley throughout our conversation and thankfully a kindred spirit in this industry.
---------------
Why I'll Never Make It is a top 25 theater podcast hosted by Off-Broadway actor and singer Patrick Oliver Jones and is a production of WINMI Media, LLC. It is a part of Helium Radio Network and a member of the Broadway Makers Alliance. 
Background music in this episode is by John Bartmann (Public Domain) and Blue Dot Sessions (Creative Commons Attribution-NonCommercial 4.0 International License).
Ashley Victoria Robinson & Unladylike Theatre present The Bearer of Bad News at the 2022 Hollywood Fringe Festival 
Most actors are used to working in a traditional power structure where actors are subservient to directors. There's a very clear sense of who is in charge and whose opinions matter the most. Ashley met her Unladylike co-founders (Tiana Randall-Quant and Kendell Byrd) under these very circumstances. They found collaboration as the three of them really drew on each other through the creative process.
Ashley recognizes a school of thought in contemporary theatre that is Socratic in its approach, where everyone is equal is therefore more "feminine." Unladylike Theatre was established by 3 femmes, trying to bring feminine sensibilities to every step in the creative process. And so their mission statement is: Reimagining the future through femme-forward theatre.
The Bearer of Bad News is their debut production, which they worked on for about 2.5 years total. Bearer of Bad News explores the intersection of identity and purpose set against the backdrop of a world irrevocably altered by climate change. Unladylike looks forward to future projects as well, whether an update of a classic work or creating fresh new pieces of theater. 
Ashley Victoria Robinson: Canadian Hobbit
She's been seen on stages all over the world including: The Wallis Annenberg, Theatre West, Hollywood Fringe Festival, Ottawa Fringe Festival, Youth Infringement Festival, Sock N Buskin, Cupcake Theater, and more. She's also a podcaster like me, hosting the Geek History Lesson podcast (alongside Jason Inman), was even the face of Twitter marketing for podcasters, and is the co-creator of The Red Shirt Diaries.
Ashley has been featured in several international commercial campaigns including Intel alongside The Big Bang Theory's Jim Parsons. On TV Ashley has shown off her acting chops on shows like Good Trouble (Freeform), Snowfall (FX), Pump (Urban Flix TV), and Hotel Secrets & Legends (Discovery Channel). Her comic book writings "Science! The Elements of Dark Energy" and the "Jupiter Jet" series are both award-nominated for Best Graphic Novel.